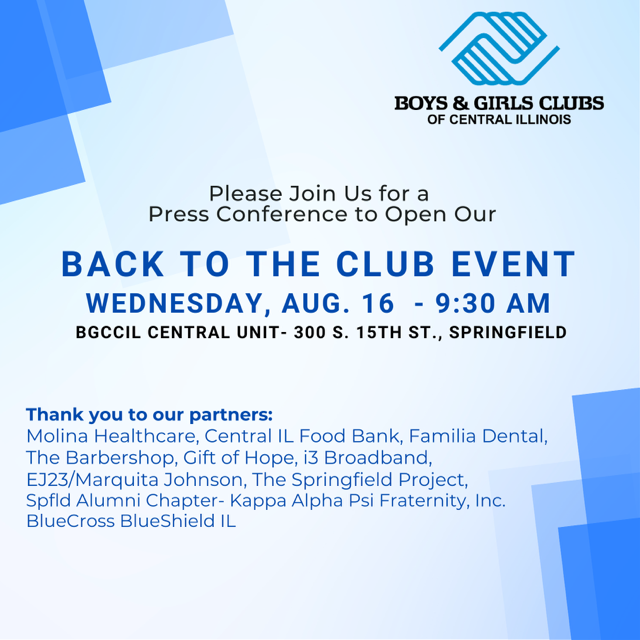 SPRINGFIELD, IL. –The Boys & Girls Clubs of Central Illinois (BGCCIL) is partnering with a variety of local organizations and individuals to host "Back to the Club" a member event geared to ensuring all Club families are fully prepared for the upcoming school year.
"We know Back-to-School time can be very hectic for parents" said BGCCIL CEO TiffanyMathis Posey. "We built this event to make it as easy as possible for our Club families to access the needed services all in one day, at one setting."
The free event will be held August 16th from 10am-6pm at the BGCCIL Central Unit location at 300 S.15th St. Thanks to partnerships with Molina Healthcare, Central IL Food Bank, Familia Dental, The Barbershop, Gift of Hope, i3 Broadband, EJ23/Marquita Johnson, The Springfield Project, Kappa Alpha Psi Fraternity, Inc. and BlueCross BlueShield IL, Club members will have access to school physicals, dental exams, haircuts and healthy heart information. Additionally, attendees will receive food boxes and backpacks with school supplies.
"Starting the school year on the right footing is important to all kids. Thank you to the generosity of our community partners and donors, our Club kids will be ready to start the school and Club year prepped and on time," said Mathis Posey.
Another component of the event is bringing awareness to a heart condition that is known as a "silent killer." In May a BGCCIL board member lost a family member to hypertrophic cardiomyopathy, a condition causing the heart muscle to become abnormally thick, making it hard for the heart to pump blood. Eugene Johnson was just 18 when he passed away playing basketball in his hometown of Downers Grove. The Club is working with his mother, Marquita Johnson, to bring awareness to the community regarding this condition.
"My purpose is to do what I can to prevent another family from losing a child to this" said Marquita Johnson. "It is the best way I can honor my son."
Johnson will be on site at the event sharing her story as well as information regarding heart health from the American Heart Association.
"I want to thank Ms. Marquita Johnson for allowing BGCCIL the opportunity to share her story and assist her with honoring the memory of her son. Although back to school supplies and backpacks are important for kids and families, BGCCIL also knows how important it is to provide our families with important information regarding their personal health and wellbeing and preventative measures to keep them healthy and safe."
Members of the Club, representation from our partners, and local dignitaries will be on site at 9:30 a.m.to kick off the event with a press conference.
The mission of the Boys and Girls Clubs of Central Illinois is to inspire and enable all young people, especially those who need us most, to reach their full potential as productive, caring, and responsible citizens. We are positioned to serve more than 1,000 youth at our Central Unit and 21 elementary and middle schools covering two counties (Sangamon & Morgan). BGCCIL provides character building activitiesand academic programs designed to deliver measurable outcomes in a safe environment with caring adults. For additional information visit http://bgccil.org.