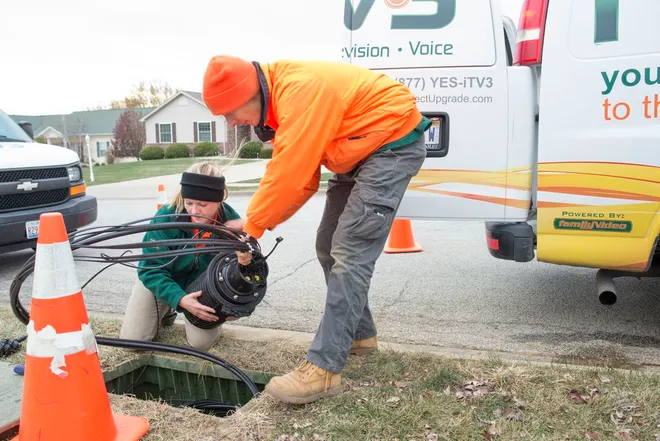 PEORIA, IL. -- Cable TV has been a monopoly in Peoria since General Electric Cablevision launched service here in the 1970s. In 2015, that's about to change.
That's when iTV3 will start laying fiber optic cable in Peoria, providing their bundle of services — telephone, cable TV and Internet connections — just as they have in Pekin, Morton and East Peoria.
The iTV3 operation is a division of the Glenview-based Family Video company, a firm that got its start when Charlie Hoogland spun it off from his family's Midstate Appliance store in Springfield in 1978.
Today, Keith Hoogland, Charlie's son, serves as president of Family Video, a family of businesses that include 775 video stores plus Marco's Pizza stores and StayFit-24 fitness centers.
While Family Video has been able to outlast national giants like Blockbuster and Hollywood Video in the rental of movies and video games, the company hasn't closed its eyes to ever-changing technology.
"We started to understand fiber as another way of getting entertainment into people's hands," said Keith Hoogland when in Peoria last year for the opening of a Marco's Pizza outlet at Glen and Sheridan.
The iTV3 service started in Pekin in 2010. Morton and East Peoria soon followed.
"We still have some work to do in East Peoria," said Levi Dinkla, iTV3 vice president, adding that it was Keith Hoogland who pushed to lay cable in Peoria.
"'Why aren't we in Peoria?' he asked us, and after years of discussions with officials here, we got the job done," said Dinkla, an iTV3 employee for four years but a Family Video employee — involved in both retail and real estate — for 14 years.
Dinkla won't say how many customers iTV3 has already lined up across the area, simply stating that the company is the largest fiber-to-home company in central Illinois.
Service to Peoria's residential neighborhoods won't start until 2015 but iTV3 already has a presence in Downtown Peoria. "We probably have about 200 business customers who use our Internet service across the area," said Dinkla, speaking from the company's office in East Peoria.
As to where in Peoria the company will start, that's up to customers, he said. "This is the biggest job we've ever undertaken. It's a $60 million project," said Dinkla.
Service will start where there's the biggest demand, he said. "People can sign up now on www.theperfectupgrade.com," said Dinkla.
For iTV3, initiating service in Peoria will mean adding to its present complement of 60 employees, he said, adding that for Peoria, it means getting a fiber optic network, something that will only enhance the community in an Internet-centric world.
"We'll be making gigabit service — comparable to Google Fiber — 1,000 megabits per second — available to residents for under $100 a month," said Dinkla.
"There are only a few cities across the country where that kind of service is available," he said.
Competing against Comcast, the nation's largest cable company that presently provides service across the Peoria area, is both a challenge and an opportunity, said Dinkla.
"Our philosophy is that if we treat you right, provide a great product at a fair price, we believe we can come in and compete," he said.
The iTV3 approach is that providing customer service in smaller cities and towns is a formula for success, said Dinkla. "The big telephone companies like Verizon and AT&T went with cable only in the big metro areas," he said.
Meanwhile, others are courting iTV3 to bring their fiber to town. "We've been contacted by a lot of communities," said Dinkla, noting that Tremont has expressed special interest. In addition to its Peoria plans, iTV3 will start wiring Champaign in 2015, he said.
A new company — one devised in Peoria — will soon be announced to become part of the Family Video family, said Dinkla.
Meanwhile, Peoria waits for spring, wondering what neighborhood will get wired first.
Source: Fiber optic cable is on its way to Peoria (pjstar.com)