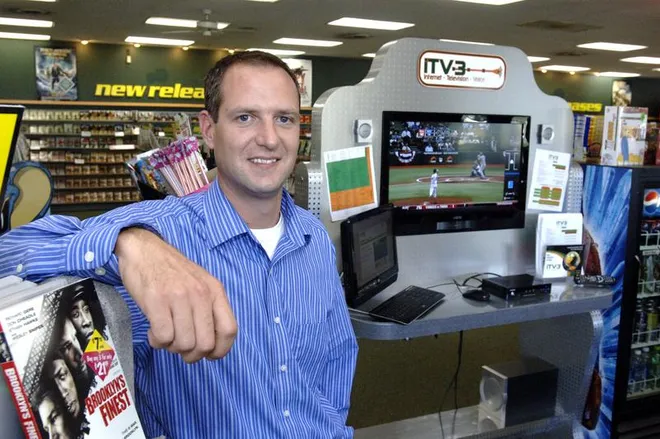 PEKIN, IL. — Family Video Inc., the largest privately owned video chain in the country, is upping the competition for combined video, Internet, TV and telephone services with a fiber-optic project in the Pekin and Peoria markets.
A Pekin store is among the first Family Videos to have an "ITV-3" kiosk that highlights the new services.
"Our store count is growing and thriving. We opened 100 new locations this summer," said Brian Olson, who recently relocated from the Chicago area to spearhead Family Video's new ITV-3 division.
Family Video, founded in Springfield, has 700 stores with 6,000 employees in 20 states.
By comparison, video stores are declining nationally — from 25,000 locations in 2003 to 17,000 in 2010, Among the victims have been national giants like Hollywood Video and Blockbuster Inc. Both closed hundreds of stores and filed for bankruptcy this year.
"The rental industry is strong," said Olson. "Our competitors were weak. Comparing product, service, price and location with Blockbuster, we think we win on all counts."
Charles Hoogland started the Video Movie Club in Springfield in 1978. In those days, you paid a $25 membership fee and rented videos for $5 a crack.
Hoogland's Video Movie Club evolved into Family Video. It is now based in Glenview, a Chicago suburb.
The ITV-3 kiosk in the middle of the Pekin store, complete with TV monitor showcasing the company's offerings, indicates the family-owned company is branching out again. Family Video bought Omnilec, a fledgling fiber-optic firm based in the Peoria area, in 2009 in order to launch ITV-3.
ITV-3 phone, Internet and TV packages will cost from $59.95 to $179.95 per month.
"We offer Internet and phone service for $59.95," Olson said. "If someone doesn't want the phone hook-up, we double their Internet bandwidth."
Television offerings can include as many as 300 channels, including 100 high-definition channels.
"The cable companies have had a monopoly for too long. ITV-3 brings a new level of service to the customer," said Olson.
"We're focused on Pekin currently, but we're setting up a franchise agreement in Morton," Olson said. "Once that's done, we'll begin service there.
"This is the prototype," he said of the kiosk. "Eventually we want to have one in every store."
Fiber is the key to the new offering, allowing the company to keep up with demand for increased Internet speed in order to stream of movies and games, he said.
"We're building a network that's completely underground," Olson said.
"The amount of bandwidth that fiber is able to transmit is beyond anything else out there. It's all the bandwidth people will need for decades to come."
The biggest problem is keeping up with demand, said Olson.
"People want the service right away, but we can't rush it. We're building a network, running trunk lines into neighborhoods," he said.
Right now, a team of about 50 people work for ITV-3, but Olson expects that figure to grow.